Celebrating Creative Leadership and CPS Students
Prof. Patsy Marshall is a partial-load professor in the Faculty of Humanities and Social Sciences, teaching courses within the Board Undergraduate Certificate in Creativity and Creative Problem Solving. For her Fall 2020 Creative Leadership and Problem Solving class, a 2000-level degree breadth elective in the Board Undergraduate Certificate in Creativity and Creative Problem Solving, Patsy's students were asked to create a Creative Leadership Portfolio to curate and reflect upon their weekly online exercises from the first five weeks of the Fall term. For this assignment, students reflected upon the following questions: Why are creative leadership theories and practices important to your industry? How might you adapt and transfer course knowledge to your area of practice? What did you learn and why is it valuable? Here are some of the exemplary student work that arrived in response.
* * * * *
Wonder Worker
by Tammy Primeau McNabb, ECL
Wonder Worker is an amazing interactive early childhood educator with the children, supportive and co-learner with his/her teaching partner, ready to engage in new activities by day and a documenting, parent interacting and helpful peer and co-worker by late afternoon. Wonder Worker has superiors that are transformational and some that are enabling to inspire, coach, and assist him/her as needed. Many of the same qualities of transformational leadership and enabling leadership style are part of Wonder Worker as well, along with a dash of entrepreneurial leadership style which shows off their confidence and roll-with-the-failures kind of attitude.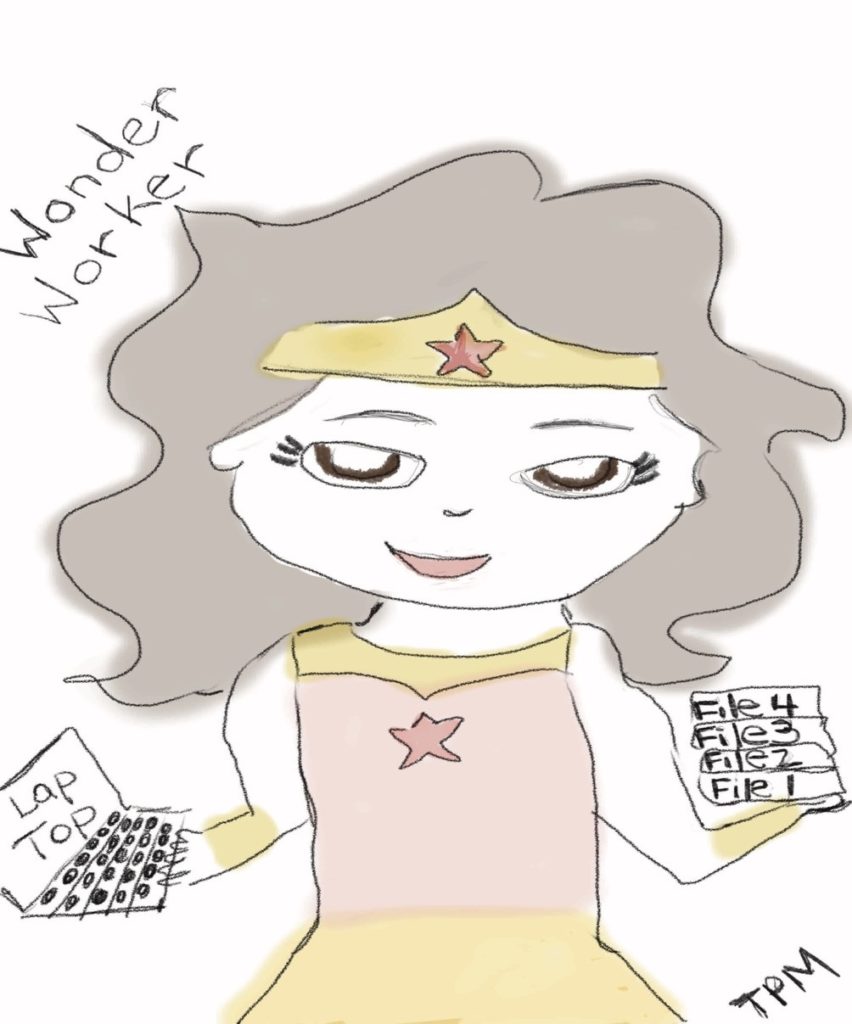 It is my belief that we all go into a career with the best intentions, wanting to produce the best work, pleasing ourselves and others in return. Eventually it seems that we struggle with the obstacles that appear in our way. Sometimes we dodge one, maybe a second but ultimately without support to help solve them and keep them at bay, we become bogged down and it becomes the crux of whether you are successful or not. Florida and Goodnight explained in "Managing Creativity" that as leaders we should "do what you can to keep them intellectually engaged and clear petty obstacles out of their way, and they'll shine for you" (Florida & Goodnight, 2005, p. 126). A wonder worker appreciates that their leader is willing to create the time and space to allow wonder worker to do his or her work to the best of their ability. Taking time to ask open ended questions regarding how their day is playing out, where success is flourishing and where obstacles lie will help a leader support the employee that is creative and fostering a positive and productive work environment. It is known that, "the more distractions a company can remove, the more its employees can maximize their creative potential and, in turn, produce great work" (Florida & Goodnight, 2005, p. 127).
Within the hierarchal system there are some more responsive and supportive to employees need to succeed in their productivity rather than at simply removing obstacles. This is an opportunity for enable leaders to do what they do best. As, "leaders who have more experience than their entrepreneurial colleagues (and are often above them in the flattened hierarchy) focus on helping project leaders develop as individuals, navigate organizational hurdles, connect with others, and stay in touch with larger business shifts" (Ancona, Backman & Isaacs, 2019, p. 79). It is my belief that any employee, from any career choice would appreciate and respect an enable leader that can effectively steer individuals over hurdles, help the connection with peers and foster the momentum when large shifts happen.
Personally, as an early childhood educator (ECE) with the Halton Catholic District school board I was pleased to be asked to be one of two mentors chosen to be a peer support for ECE's in our board. My goal was to be an enable leader and ensure that there was positive support, a listening ear, a guide to help maneuver through areas that were challenging, to offer myself and peers in their area as strong connections and break down dilemmas into manageable bits that could be tackled. I found success that helped me decide to apply for my Honours Bachelor of Early Childhood Leadership degree, I am pleased I did and here I am looking forward to being a leader in my field for years to come.
* * * * *
Padda Dalveen, BBA Human Resources: Creative Leadership Portfolio
F20_TheHub_StudentCreativeWork_Padda_Dalveen_-CreativeLeadershipPortfolio_PatsyMarshallFHASS_JP

* * * * *
Patsy also wanted to share another student's notable work from her Group Dynamics and Creative Problem Solving Facilitation class, also within Sheridan's Board Undergraduate Certificate in Creativity and Creative Problem Solving. Cindy Huynh is an Honours Bachelor of Interior Design student and this is her power point on group work and facilitation as a member of the Interior Design Collective:
F20_TheHub_StudentCreativeWork_CindyHuynh_GroupDynamicsandFacilitationSkills-_PatsyMarshallFHASS_JP