Sheridan's ESL and TESOL Plus Programs Reach New Milestones!
FHASS's School of Communication and Literary Studies (SCLS) has big news in Winter 2023, as the ESL and TESOL Plus Programs each reach important milestones.
ESL Program Surpasses 1000 Students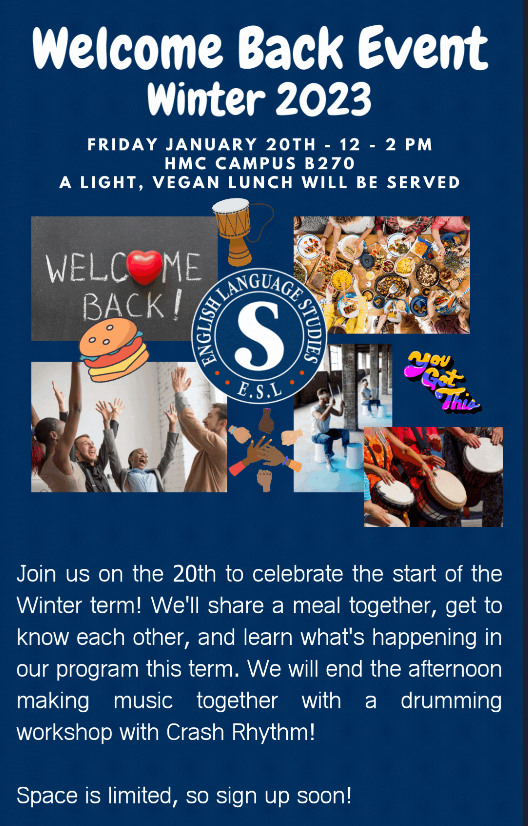 This semester, the ESL program has set a new record for enrollment, surpassing 1000 students for the first time. Sheridan's ESL program is now one of the largest in the GTA, with 1119 students enrolled for Winter 2023, representing more than 100% growth since Fall 2021. Sheridan's program has become a dynamic, vital hub for newcomers to the GTA developing their English skills.
The program's dramatic growth over the pandemic years comes at a time when most ESL programs in the GTA were losing students. Associate Dean Stephanie Samboo attributes the program's success both to its flexible modality of delivery and to the supportive community that the ESL program has built, where past students frequently refer others to the program by word-of-mouth.
"We have a lot of students from particular regions of the world, and their community is very tight-knit, so the program has been able to grow through referrals. We've had several whole families enroll in the program."
The program is thriving online—of 42 student groups of ESL learners across five levels of instruction, there are only three in person groups this Winter. "We have synchronous and asynchronous elements," Samboo says, "it's a robust and functional online experience for our students. But the online delivery is key. Our student demographic includes a lot of parents, especially mothers—our parent students actually have an average of four children. It's appealing to these students to improve their English online without having to come to campus. We have students enrolled all over Ontario—in London, Blue Mountain, and as far away as Montreal."
The energized community around Sheridan's ESL program is demonstrated in the wide variety of ESL Club events hosted by the program, both online and in-person. There are online forums, and workshops in such practical matters as goal-setting and improvisation.
"Ultimately, the success of the program comes down to the faculty. Our ESL faculty are amazing, and very devoted to finding the best methods for online teaching and learning."
TESOL Plus Program Finishes First External Review
Alongside the growth of the ESL program, TESOL Plus program has also established itself in the past year, finishing its first five-year program review with flying colours.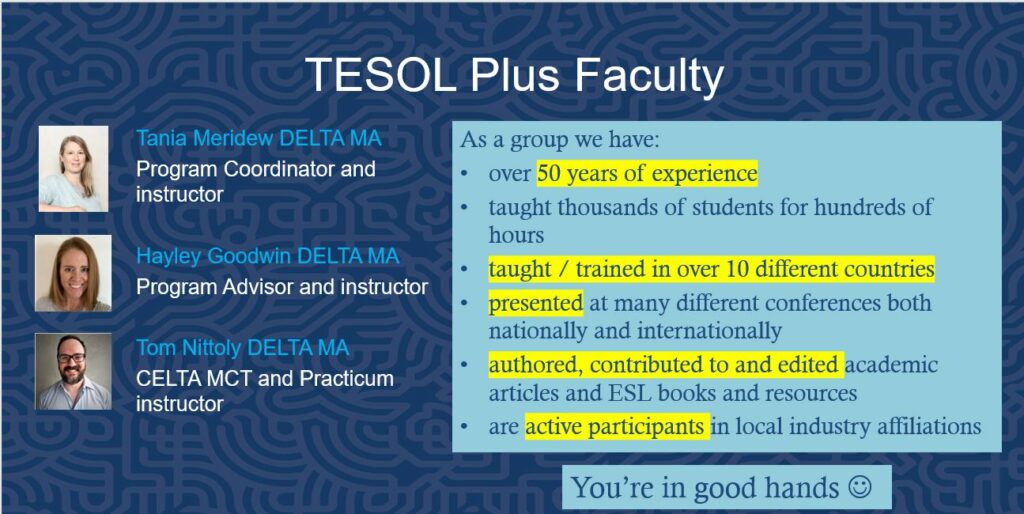 Sheridan's TESOL Plus program is an eight-month post-graduate certificate training students to become ESL teachers. The program is unique amongst local TESL programs for offering accreditation from three separate external bodies (TESL Ontario, TESL Canada, and CELTA from the University of Cambridge), certifying graduates to teach not only in Canada but all over the world.
In their report, the program's external assessors described the faculty as "an experienced, highly credentialed core of instructors who work exceptionally well together," and described the overall package as "an excellent program that undoubtedly makes a positive contribution to the profession and to the well-being and growth of newcomers to Canada."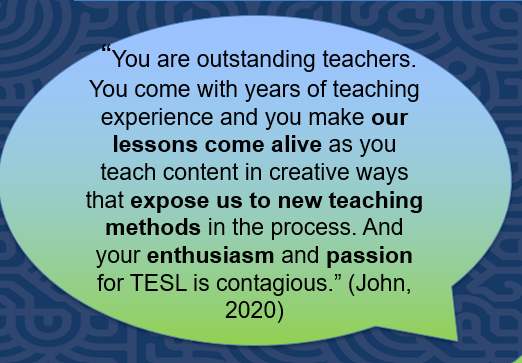 The TESOL Plus program at Sheridan has a reputation for being a more practical program than many, getting the students into the classroom to teach as early as week 3.
This April, the program is bringing some students to Brazil to collaborate and learn from educators at Universidade Federal de Minas Gerais in the city of Belo Horiozonte. Funded by the CICAN Global Skills Opportunity Grant, the trip will be led by Professor Hee-Seung Kang, who will supervise the students while they visit classrooms and work with high school instructors teaching English in Brazil.
.
Congratulations to all the Faculty and Staff in Sheridan's ESL and TESOL Plus Programs!