CW&P Master Classes Welcome Who's Who of Contemporary Writing to "campus"
Creative Writing & Publishing kicked off 2020 with a new series of programming in the form of Master Classes with exceptional visiting creative writers and thinkers. These events, designed to complement both our annual Writer-in-Residence programming and the Creative Calendar (C2) speaker's series, are generally comprised of an informal daytime conversation between our guest and members of the CW&P faculty and community, and an evening event open to FHASS and the rest of the Sheridan community.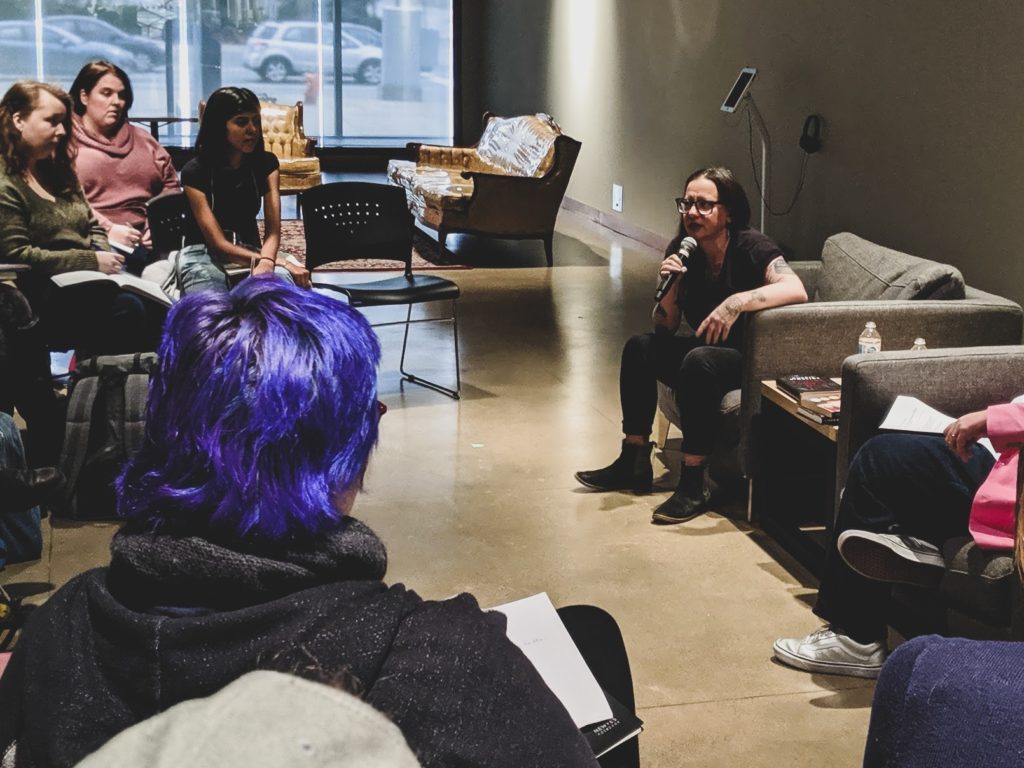 Our first Master Class event, on Monday, January 27, 2020, saw us hosting the celebrated Métis novelist and CanLit YA doyenne Cherie Dimaline (The Marrow Thieves, Empire of Wild) for a conversation with CW&P's Paul Vermeersch and a small group of students, at the Creative Campus Gallery at HMC. Later that evening, Dimaline was joined on stage by CW&P's inaugural Writer-in-Residence, Liz Howard, for a conversation about the rise of Indigenous storytelling and literature in the last decade in Canada, and about the increasing importance of promoting Indigenous contributions to mainstream culture in the face of evolving cultural and environmental crises. Held at Trafalgar's Marquee, the event concluded with an extended book signing and impromptu photo shoot, where Dimaline shared her own joy, enthusiasm, and curiosity with her readers and fans from the community.
On February 13, 2020, CW&P hosted Governor General's Award-winning playwright and CBC Radio host Amanda Parris, again at HMC's Creative Campus Gallery, for an informal afternoon conversation with Prof. Glenn Clifton and several of CW&P's more script-savvy students. A highlight of this event was a reading from Parris's celebrated play Other Side of the Game, and a book-signing session for CW&P students. Later that (snowy, stormy) evening, we were thrilled to have Parris joined on stage for an interview with Jael Richardson, writer and artistic director of Brampton's thriving Festival of Literary Diversity (FOLD) for a conversation about the effect of systemic racism, bias within the Canadian legal and justice systems, and the cultural effects of these lived realities on black women and girls.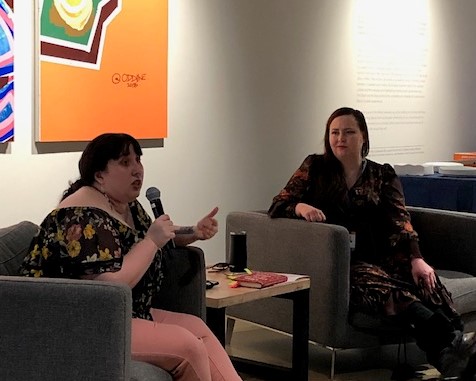 Our third Master Class (on March 12, 2020 — our last day on campus before the imposition of COVID restrictions) welcomed Tuscarora essayist, cultural critic, and gregarious cultural polemicist Alicia Elliott, author of A Mind Spread Out on the Ground to HMC. Joined in conversation by Liz Howard, Elliott answered CW&P student questions, discussed the politics of getting political, and divulged some of her trade secrets when it comes to getting work done on time, published, and read by the people it's aimed at. This event was followed by a more formal public address, in HMC's A145 lecture hall, considering the collision of Elliott's private family history and ways of knowing with the official, racist and discriminatory public policies that have shaped Indigenous experiences in Canada.
Fall 2020 brought with it a new incoming Writer-in-Residence—the inimitable Gary Barwin—and a renewed focus on adapting our community-targeted programming to our community's socially isolated circumstances. Our most recent (virtual) Master Class involved a visit from the poet and novelist that Quill and Quire magazine dubbed "the most celebrated author of 2020," Kaie Kellough, on Nov. 25, 2020. Kellough, author of the Giller Prize-winning volume of poetry Magnetic Equator, and the Giller Prize shortlisted fiction collection Dominoes at the Crossroads, joined Gary Barwin and CW&P students for an intimate discussion about hybridity and creativity in work, life, and music. Later in the day, Kellough and Barwin reconnected for a public conversation as part of the Creative Calendar speaker's series, which was streamed to public audiences from Sheridan's creative Faculties and around the world.