Student Spotlight: ESL and the Mississauga Food Bank
By Prof. Supriya Habbu
When my students and I decided to visit the Mississauga Food Bank this semester, I had several objectives. I wanted my students to practice their listening and speaking skills in real-life, authentic situations. I wanted them to connect with the local community and understand that hunger and poverty exist even in Canada, and that it was possible for my students to make a difference by not only donating food, but also by volunteering a few hours at the food bank. I also hoped that meeting new people at the food bank would help them build connections and practice group work and team building outside of the classroom environment.
I am very happy to say that all my students were present for the activity – perfect attendance! At the end of the 4-hour shift, many of my students showed interest in volunteering at the food bank again. Some of them said that we should do an activity like this every month.
It was interesting for me to see how engaged my students were when they were sorting food or measuring beans and packing and sealing them in small plastic bags, or checking food labels to organize them, or crushing cardboard boxes, or generally laughing and chatting while working! What was remarkable was that my students were not distracted by their phones and were completely focused when working 😊  
I hope that we will be able to organize another volunteering shift at the food bank next semester with another group of students.
Here are some student testimonials about the trip:
By: Yixuan Zhang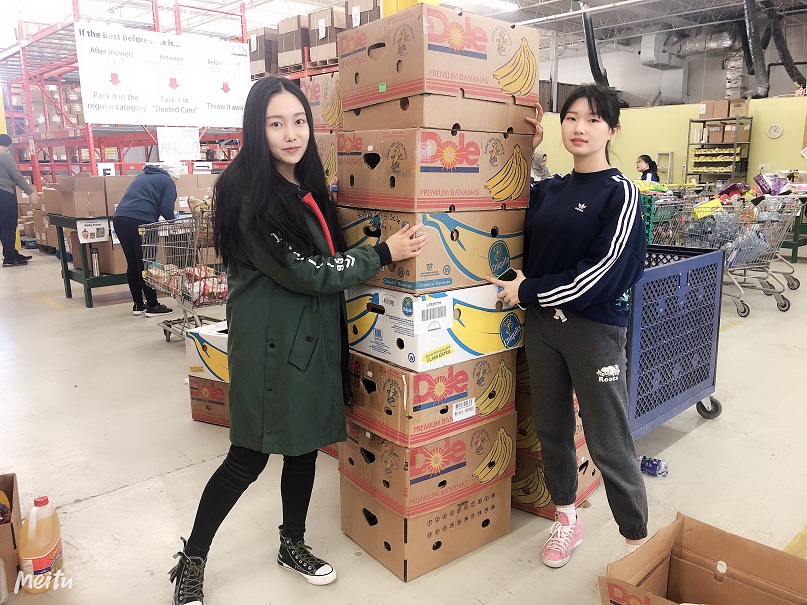 On April 3, I went to the Mississauga Food Bank with my ESL class and my professor, Supriya. It was a valuable and beneficial experience for my student life. Especially the AquaGrow Farms impressed me because the farm combines aquaculture and soilless cultivation. This farm made me understand the progress the world has made and how advanced the cultivation technique was. Also, under the guidance of the warehouse staff, we learned how to sort food and select high-quality and qualified food. In addition to sorting food, I participated in reading food labels to decide if the food was good to be distributed, stacking food boxes, recycling packaging materials and packing cardboard. This activity helped me learn how food banks help people in trouble and encourage them to have a better life. I did not feel tired at all doing volunteer work in the food bank because helping people in need made me feel energetic. Finally, in this volunteer activity, I could communicate with people who spoke English well and I could practice my English speaking and listening skills in real-life situations. I plan to continue this volunteer work in the future.
 By: Sofiia Velgosh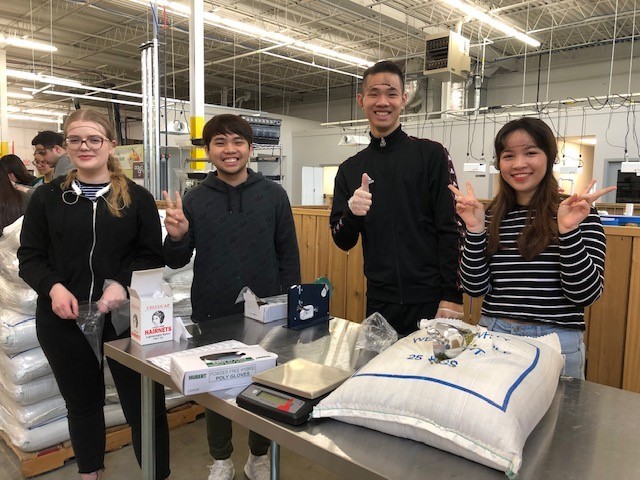 On the 3rd of April our EAP class had a great opportunity to gain a new experience, as volunteers, in the Mississauga Food Bank. Each of us had brought a small contribution to this complex work. Our class and ESL students at HMC collected 150 pounds of food which we donated to the food bank. Our team of 22 students, one professor and one activities coordinator sorted 3843 meals. These three hours made us understand and experience the role of a volunteer and why it is significant for people to participate in it. It is a good feeling to understand that you can help other people and be useful for the community. We need more people to be involved in such a valuable cause so that every person in need of help can get it.