The Hub: Writing/Talking/Walking Contest Winners
In partnership with Sheridan's Centre for Indigenous Leadership and Support, the SRCA-funded Talk the Walk project held the first Writing/Talking/Walking Contest this semester. The competition sought submissions of creative or critical writing in any genre dealing with themes of truth and reconciliation, cultural or spiritual identity, citizenship, social justice, or the environment. The winning entries, as selected by Talk the Walk's administrative team, showcased some of the excellent work being produced in Sheridan's Honours Bachelor of Creative Writing & Publishing, as all four winning entries came from 1st– and 2nd-year students in the program. As part of the Talk the Walk mandate, the pieces of winning writing were assigned to an Artifact Mentor currently enrolled in a degree-level Sheridan arts program, and interpreted in different media including sculpture, furniture, and visual art.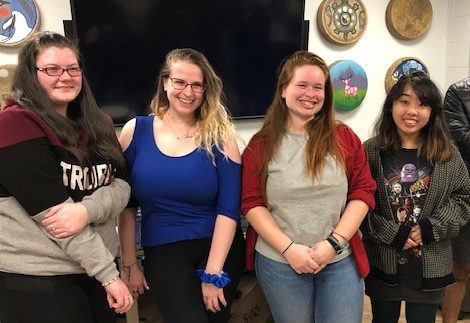 Check out the winning entries below and be sure to swing by the FHASS Creativity display case at Trafalgar (on the 1st-floor of the C-building) to see the works of art by the Artifact Mentors they inspired.
"A Swamp Like Shrek's" by Vanessa Boulard-Patterson, interpreted by illustrator Caleb Zeiger.
TtW-Boulard-Patterson

"The Elements" by Angela Paletta, interpreted by furniture designer Caitlynn Bosko.
TtW-Paletta

Check out "This Little Bird Goes Back 'Home'" by Mikaela Lucido, interpreted by ceramic artist Erin Roundsky, and "The Fourth Scar" by Kate Foster, interpreted by ceramic artist Shannon Weston, in the FHASS Creativity display case at Trafalgar.
Congratulations to all the winners!