Alireza Sobhanmanesh Wins E-Campus Grant!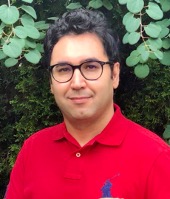 Professor Alireza Sobhanmanesh has been working on a project which received $74,130 in funding from E-Campus Ontario. The project includes designing a course that aims to enhance advanced-level ESL learners' language learning motivation, in addition to teaching them academic English.
The first Module will aim to acknowledge learners' past selves through storytelling and activate their future self-visions through visualization techniques. In the second Module, the learners will take the role of action researchers and conduct their own research projects with the aim of creating positive change at the site of the study and beyond.
The course will also empower learners with a number of skills and strategies, such as conflict resolution, creative problem-solving, and resilience-building.
As a follow-up to the content of each unit, five short educational videos will be recorded. For this purpose, Alireza has hired a professional crew and six actors, with the recording date scheduled in early December. Alireza hopes to complete most of the course content before the end of the year.
Congratulations to Professor Sobhanmanesh!