Sheridan Reads 2019 with Marlon James!
By: Prof. Glenn Clifton
On March 4, 2019, FHASS was thrilled to welcome award-winning author Marlon James to discuss his new novel Black Leopard, Red Wolf for the 2018-2019 installment of Sheridan Reads.
Sheridan Reads is an annual initiative inspired by the "One Book, One Community" model of programs such as CBC Radio's Canada Reads. By taking the private act of reading and making it public, Sheridan Reads emphasizes the communal value of storytelling. Facilitated through the Honours Bachelor of Creative Writing & Publishing, this year's programming was selected, organized, publicized, and overseen by a steering committee made up of Creative Writing & Publishing students.
Marlon James was a natural fit for Sheridan and for Sheridan's Creative Writing & Publishing program students. Born in Jamaica, James is author of three previous novels, John Crow's Devil (2005), The Book of the Night Women (2009), and the Booker Prize winner A Brief History of Seven Killings (2014),a multi-faceted account of the events surrounding the attempted assassination of Bob Marley in 1976. A Brief History catapulted James to international fame with its sprawling, multi-perspectival storytelling and the energetic variety of its narration (the novel represents the voices of dozens of narrators). But James has now turned to writing fantasy, and Black Leopard, Red Wolf is intended to be the first of a fantasy trilogy, billed by its publisher as an "African Game of Thrones." The novel pushes the boundaries of generic tradition by bringing African mythologies and storytelling conventions to the genre of the fantasy epic. Given the popularity of fantasy literature among Sheridan students, James was naturally asked plenty of questions about his inspirations in fantasy and the ethics of creating an entirely new world that also means to represent real forms of historical violence.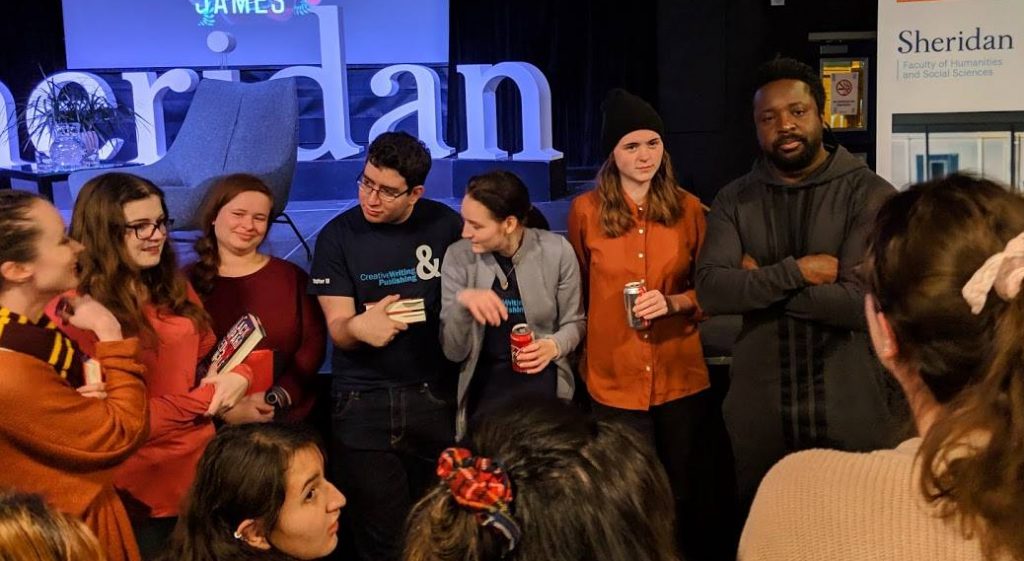 James visited with Sheridan's Creative Writing & Publishing Students for a reception before taking the stage. He was a gracious and generous listener, curious about our students' projects and passions. After, he stayed quite late into the evening signing books for a long line of fans.
The heart of the event featured Marlon James reading from his work and then sitting down for an interview with FHASS Creative Writing Professor Thea Lim. Professor Lim asked James about his representations of violence and masculinity, about his aims as a diasporic writer of fantasy, and about his experiences working with editors. Professor Lim's thoughtful questions and Marlon James's affable manner and wit made for an engaging and constantly surprising conversation: James claimed, for example, that he had "been trying to sell out for years" and noted that only the a culture of representing violence without suffering allows us to remember Die Hard as "A Christmas movie". You can read Professor Lim's full interview with Marlon James, published in Hazlitt magazine, here.

As Sheridan's Honours Bachelor of Creative Writing & Publishing continues to roll out and approaches the graduation of its first cohort, there will be plenty of additional opportunities for students to get involved in the planning and development of Sheridan Reads; a fourth-year program class will use the annual initiative to teach the students about literary festivals and events planning. In the meantime, FHASS Dean Yael Katz, Associate Dean Sean McNabney, and faculty supervisor Owen Percy would like to thank this year's steering committee: Miranda Winters-Sayle, Jacquelyn Ferguson, Brianna Wodabek, Rebecca Gruszka, Ash Wallace, and Angela Paletta. Special thanks also to FHASS's new digital guru Patrick Naval for all his promotional work.
Check out the steering committee in these promotional videos, shot by Prof. Christian Knudsen:
Stay tuned for future installments of Sheridan Reads!