Tyson Seburn talks to TESOL+
By: Prof. Danielle Freitas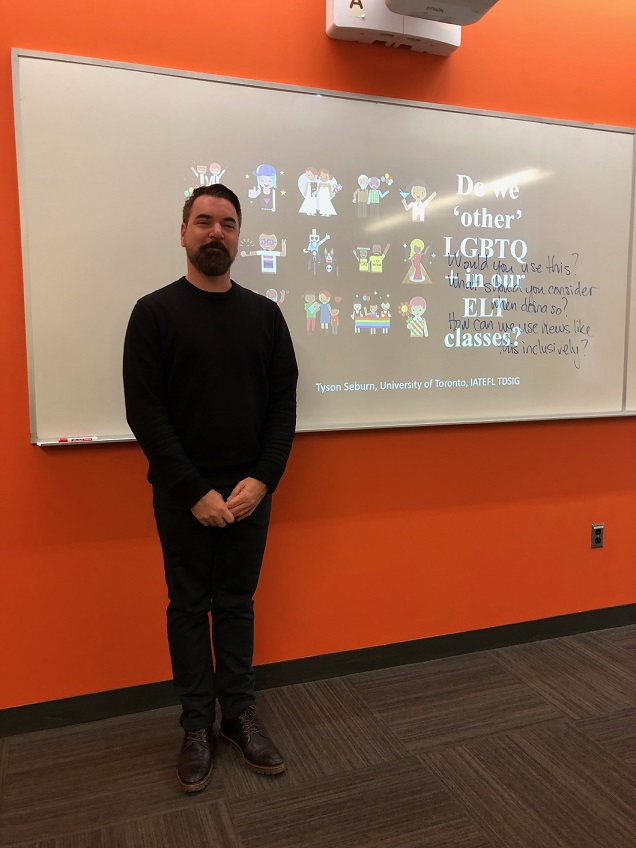 In the Fall of 2018, the TESOL Plus Graduate Certificate program proudly hosted a talk with Tyson Seburn on "Inclusive and Othering Approaches to Marginalised Groups." Tyson was invited to share his expertise as part of the Methodology in English Language Teaching course, taught by Professor Danielle Freitas. Tyson is the Assistant Academic Director of International Programs at New College, University of Toronto and the Coordinator of the Teacher Development Special Interest Group of the International Association of Teachers of English as a Foreign Language (IATEFL). Tyson has written and presented extensively on social inclusivity issues and believes that "ELT can be an ideal space for topics relevant to the societies in which we live and learn, to be used as a device for meaningful content and embedded and emergent language." Tyson's talk highlights the TESOL Plus commitment to delivering innovative and state-of-the-art pedagogy as well as embodies Sheridan's values of Inclusion and Equity, values which are seen as empowering enablers running across Sheridan education. In his talk, TESOL Plus student-teachers had the opportunity to engage with several relevant issues, including the under-representation of minority students in ESL materials, namely, LGBTQ+ students, and the consequences of this under-representation for these students' identities in ESL classrooms.
Student's written testimonial:
Hi Danielle, I wanted to thank you for inviting our guest lecturer today. It was a very interesting and inspiring class!
As we do our m CELTA certificate, we have so much in our mind when preparing our lessons: am I using icqs and ccqs, am I grading my language? But more importantly, is the topic personalized, enough that my students will relate to the lesson? I sometimes forget that my lesson also has to relate to the real world outside the classroom!
As teachers, we can choose what our students will be exposed to. Thanks for reminding us that we can do so much more than discuss the weather!
Summary of spoken testimonials:
"We really appreciate the opportunity to discuss issues that affect our students' lives so much."
"It was great!"
"I liked the discussion. It made me think about things I had never thought before."
"Very interesting!"