Meet Chris Ambedkar, Professor of Creativity and Communications
Chris Ambedkar joins the School of Humanities and Creativity
Chris Ambedkar (he/him) is an award-winning educator, creator, and communicator. His professional work bridges academia and industry.
Chris was recently a part of The Creative School at Toronto Metropolitan University (formerly Ryerson University), where he taught courses in Graphic Communications Management and the Master of Digital Media programs. Chris also brings administrative experience managing the Master of Digital Media program at TMU as the Lead, Academic & Industry Coordinator. Chris has taught courses specifically in creativity, collaboration, design, digital media, and creative research methods.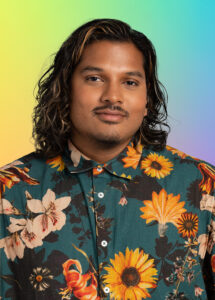 Previously, Chris was the Creative Lead for the Ministry of Colleges & Universities in the Ontario Public Service where he leveraged visual thinking and communication techniques to shape internal and external communication, including COVID-19 communications. As an educator, Chris uses his public service experience to challenge his students to build connections between their education, solve real-world problems, and drive positive social change.
In his personal time, Chris is a recreational powerlifter and an avid foodie whose guilty pleasure is reality television.
Chris hopes to add value to the world through creativity, innovation, education, and research.
Chris Ambedkar answers Alchemy's Proust Questionnaire
My favourite qualities in a student: Open-mindedness & empathy
My favourite qualities in a teacher: Empathy & kindness
In my opinion the secret to success is: Being true to yourself.
My favourite quotation, motto, or phrase: If you get tired, learn to rest, not to quit.
Talent or skill I wish I had: I wish I could sing and dance. I mean I can, but not well…yet.
Country/place I'd like to visit: Japan
On my bucket list: I'd love to be able to deadlift 600 lbs. I hit my personal record of 500 lbs this summer.
My favourite food/meal and drink: Jerk chicken – I can eat this every day.
My favourite painter/artist: Kent Monkman…Sheridan represent! I also love the art of drag.
My favourite singer/musician and song: I love music and all types of music but I love a good pop ballad.
The most embarrassing song/album in my iTunes or music collection: I am not embarrassed to say that I still have the Spice Girls on daily rotation. Everyone needs to spice up their life!
My guilty TV/film/gaming pleasure: I love reality TV! I am also a Nintendo fan – Pokemon and Zelda are my favourites.