Community Collaborations: Supporting Homeless Families
By Prof. Sara Cumming (Sociology)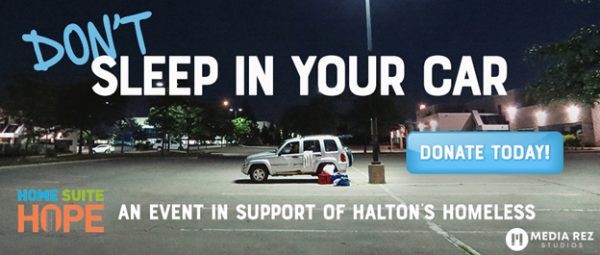 On September 29, 2018, Prof. Sara Cumming participated in the second annual Sleep In Your Car event held by Home Suite Hope—a community organization that supports homeless lone mother-led families by providing housing, access to education and skill development. Sara was one of five "car champions" who agreed to sleep in her car for the night unless she raised $25,000 prior to the midnight deadline of September 29th.
The theme of the event was "In your wildest dreams." Participants were asked to dress in any costume that represented this theme. Professor Cumming thought long and hard about what the lone mothers in the program would wish for themselves. After many long conversations with the moms she understood that if the moms could change anything in their lives they would be born into privilege. Becoming a single parent is nowhere near as scary when you have the resources that come with a life of privilege—resources that extend far beyond money to include relationships and networks of support. As a result,  Sara dressed as her version of privilege—a white uber-masculine man wearing over $5000.00 in (borrowed) designer bling!
Sara did not have to sleep in her car, as she raised approximately $31,000.
Team Sheridan, which included President Janet Morrison and Bachelor of Music Theatre Performance students Jill Goranson, Michael Derworiz, Noah Beemer and Kelsi James, were also champions of one of the cars and raised $30,000. In total $170,000 was raised to help stabilize the lives of these families.
Home Suite Hope wraps services around 30+ lone mother-led families which includes 68 children. It costs Home Suite Hope $2000 per month to stabilize a family in housing with food and other services. Sheridan College partners in providing an education to the moms and the Halton Region partners with rent subsidies.
Sara and Team Sheridan thank all of you who donated to this important fundraiser.