Paul Vermeersch embodies the &; Wins everything!
Prof. Paul Vermeersch (Creative Writing & Publishing) has had quite a year. On top of welcoming this year's incoming class of Creative Writing & Publishing students, he published three poems in the Mexican journal Periodico de Poesia, translated by Helena Moguel Samaniego. Check out the poems and their translations here.
In October 2017, a book Paul acquired and edited for his publishing imprint, Buckrider Books (Wolsak & Wynn), was awarded the prestigious Governor General's Award for Poetry in English; the book, On Not Losing My Father's Ashes in the Flood, by Calgary poet Richard Harrison, was celebrated by the jury for its intimacy and deftness: "In these moving poems about the father/son relationship set against the Alberta flood of 2013, Richard Harrison's intimate yet open voice deftly explores subjects as wide-ranging as childhood, middle-age anxiety, dementia and loss with wonder, humour and resilience." Congratulations to Richard, of course, and to Paul for his part in the book's success.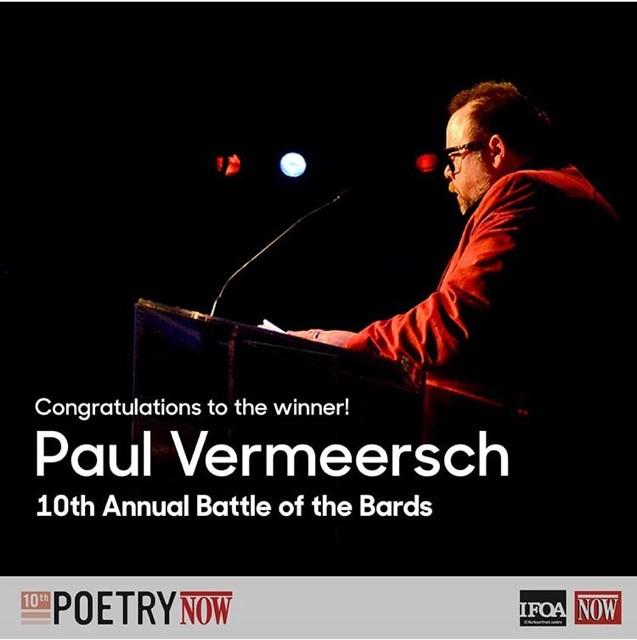 On top of that, he recently won the infamous 10th annual Battle of the Bards hosted by the International Festival of Authors and Now Magazine. The competition pits 20 established poets against one another on stage at a reading event, and the winner is selected by a panel of expert judges. Check out the list of this year's participants here, and make sure to high-five Paul next time you see him! Congratulations, Paul!