Jennifer Chambers's SRCA Project Wants Your Story!
Professor Jennifer Chambers has been busy coordinating the SRCA-grant funded project Everybody's Got a Story – and there's still time to get involved!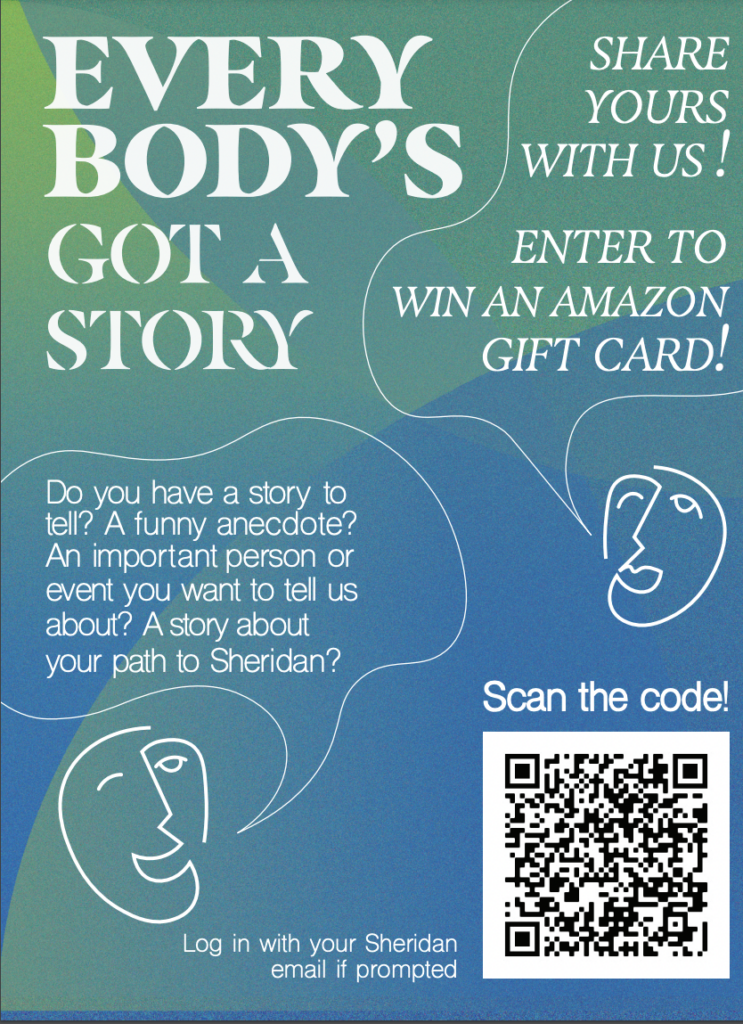 Modelled on Brandon Stanton's Humans of New York, the project trains student Research Assistants to interview members of the Sheridan community. We hope to elicit personal stories with the aim of fostering community between students who have been isolated during the pandemic. Faculty, Staff, Students, and Alumni are all welcome to participate.
As Chambers puts it: "The Everybody's Got a Story project contributes to the efforts to embrace diversity and foster a spirit of inclusion at Sheridan, bringing diverse voices to the forefront in a way that evokes empathy and builds community connections.
Paul Zak's research shows that "by knowing someone's story—where they came from, what they do, and who you might know in common—relationships with strangers are formed" (Zak, How Stories Change the Brain). This project aims to bring a greater awareness about the many paths to Sheridan."
Professors Glenn Clifton and Patrice Esson (currently Associate Director of International Services) also work with the project, which employs four student Research Assistants: one from the Bachelor's of Interaction Design Program, Jaime Velazquez Loza, and three from the Bachelor's of Creative Writing & Publishing: Hazel Mekkattukulam, Alya Somar, and Eugenie Szwalek.
The project will be published online in an interactive map in April 2022.
If you would like to sit down for an interview, or know students who might be interested, the team would love to hear from you! Just fill out an expression of interest form here.